2015年06月13日
Saturday School Easter Party at Takatsuki
Our first event Saturday School event for the year was our Easter Party! As is tradition in many countries we started off by coloring our own Easter eggs. We used red, blue and yellow and even mixed some together to come up with our own colorful eggs (pre-boiled of course!). Everyone was very careful to not get any of the dye on the clothes but we got lots on our hands...
サタデースクールが始まって最初のイベントは"Easter Party!!"
Egg dyeからスタートです!
水・酢・食紅を使って玉子を染めていきます。
きれいに染まるかな?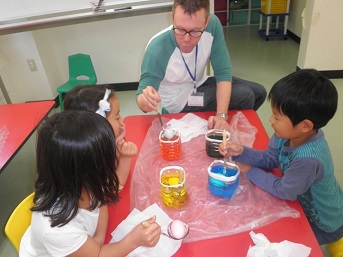 Then of course we had to see what the Easter Bunny had brought us. We heard the Easter Bunny had left some chocolate eggs for us hidden in the gym so we went down and had a ourselves an Easter egg hunt! Some of the eggs were hidden in tricky places but we managed to find 5 eggs each!
次のお楽しみはEgg Hunting!
先生達が事前にジムに隠したイースターチョコレートを探して回ります。
チョコレートを5つ見つけ出すのが目標です。
「あったよ!」「あと2つ!」などど、楽しそうな声が響いていましたよ。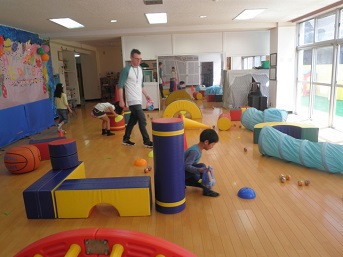 After finding the eggs it was a nice surprise to find the Easter Bunny was still here. We got to say thank you and had our picture taken with the cuddly bunny and our own hand made Easter baskets. Thank you Easter Bunny!
写真撮影にはEaster Bunnyが登場!
小さい子の中には少し怖がっている子もいましたが、バニーにハグされて仲良くなっていましたよ。
It was a nice start to spring - chocolate, Easter eggs, Easter games and the Easter Bunny. Looking forward to next year already!.
記念にイースターバスケットを持ってバニーとパチリ!
記念写真は後日お渡ししますね。お楽しみに!
2015年06月13日
This year has flown by and the Takatsuki Friday Flyer class has been learning lots of English! Our class was full of unique and colorful personalities and we spent each lesson laughing and enjoying English.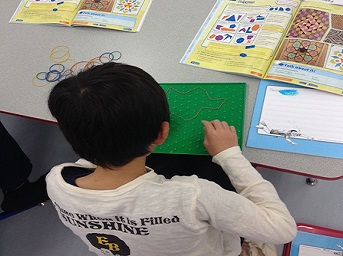 In our very last unit of our textbook, Kids Box 5, we learned about polygons. We used vocabulary words like equal and unequal, angles and sides to talk about the different shapes! We even took out some geoboards and made our own shapes. "Can you guess what shape I made?"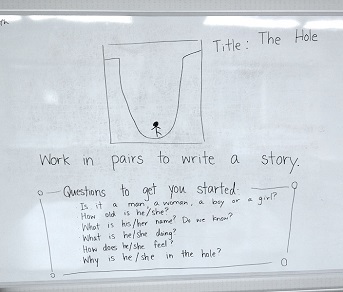 For our end of the year project we focused on creative writing and did some activities to get our creative juices flowing! Here we have an imagination activity called The Hole. Who is in the hole? Why are they in the hole? How did they get there? The students got into pairs to write out their own stories.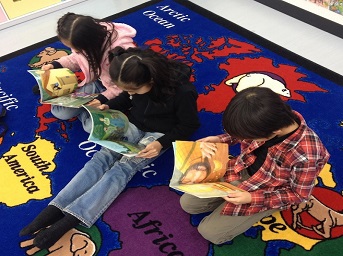 Next we read some fairytales and got some ideas for how they are written by discussing desires and difficulties in each of the stories. Then we moved on to making our own fairytales with the Fill in the Holes fairytale project.
We used the fairytale template to write out our own original story! The Flyers have become more and more independent with their writing and it has been wonderful to see their improvement!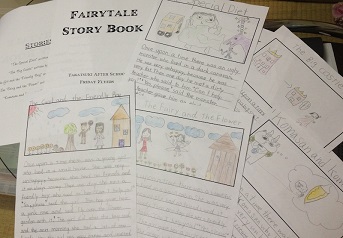 We compiled all of the stories together and made our very own Friday Flyers Fairytale Story Book! Below are some comments from the students about the Friday Flyers class!
Student E: I learned how to speak English. I liked writing in my journal.
Student H: I learned how to ask many questions. I liked playing games.
Student MN: I learned about writing stories. I liked listening to the CD and reading the textbook.
Student S: I learned how to write a story. I liked computer time.
Student MM: I learned how to ask questions. I liked my friends and my teacher.
Thank you for a wonderful year!