2014年07月26日
We had a great time this past month at Saturday School here at Global Village where did lots of fun thing!
The students were very excited to learn on topics such as weather as well as the ocean.
6月のサタデースクールでは、天気や海について等を学びました。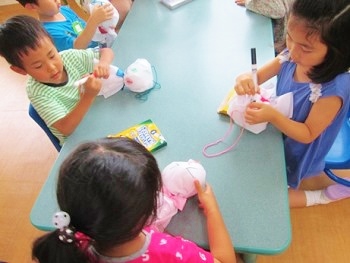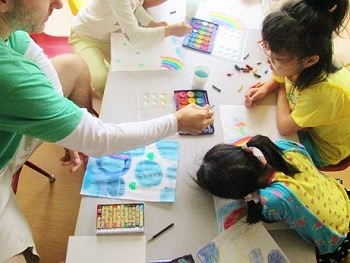 "Rain, rain go away!"
Everyone, including the teachers had a great time making different crafts such as "Teru Teru Bozu Paper Dolls", "Father's Day Cards", along with "Ocean Creatures".
クラフトでは、てるてる坊主や父の日カードを作ったり海に沿ったクラフトを作成しました。
"Sea Turtles & Jellyfish swimming in the sea."
We also had a special gym class where the students learned how to play new games as well as practice different movements.
特別にジムクラスが1度だけありましたが、みんな新しいゲームに大興奮でした!
"Rock, Scissors, Paper, 1 2 3! It's a tie!"
The Saturday students did a wonderful job at decorating Father's Day Cards.
"Happy Father's Day!"
Written by Jason and Yukie
2014年07月26日
This year in Tigers class we are going to using the computers quite often as an excellent resource to supplement our teaching.
The children will be using it to learn to type, to read books, and play interactive English learning games.
今年のタイガースクラスは学習教材の補足強化としてコンピューター学習の時間を多くとっています。タイピング、読解、そして英語でのゲームを通して学んでいます。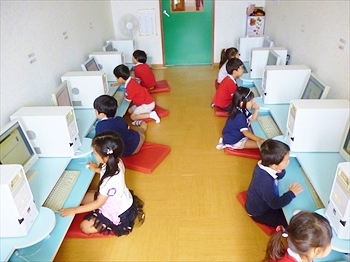 We have started back into a new gym routine now that sports day is finished.
Shota came and worked with us on our jump roping skills.
スポーツデ-が終わり平常のジムクラスに戻り始め、Shotaと一緒に縄跳びを頑張っています。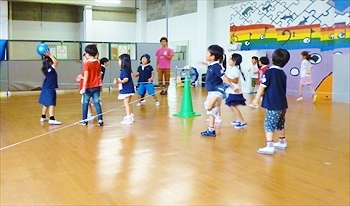 We also got to play a new type of dodge ball game with Shota that involved having 4 teams playing at once.
また4チームに分かれ一気にプレイする新しいタイプのドッジボールも始めました。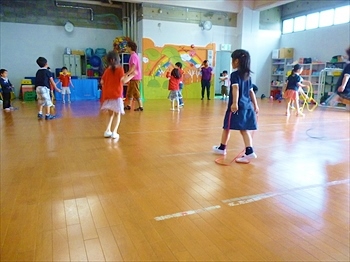 This month is helping hands month at Global Village and the Tigers and Bears class worked together to plant a garden near our school.
6月Global VillageはHelping Hands 月間だったのでBearsクラスとTigersで一緒に園のガーデンに花を植えました。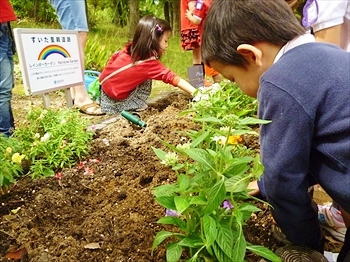 Our garden is called the Rainbow Garden, and the children had a lot of fun digging holes for the flowers and patting down the dirt.
そのガーデンはRainbow Gardenで生徒たちは穴掘りや土をならし花を植えたりととっても楽しんでいました。
The rainbow garden turned out very colorful and the kids did a great job making it look really beautiful!
Rainbow gardenは生徒たちのお陰でとてもカラフルできれいに仕上がりました!
Written by Jonathan, Alyssa and Yumi
2014年07月25日
As a continuation of last month's experiment where we made a lava lamp, this time we actually made the volcano with active lava!
先月のトピックスの中で話していた火山をみんなで実験し、作る事にしました。
First we made a paper mache volcano and filled it with vinegar and a bit of water and of course some food colouring for that real lava look.
材料を使って本物の火山の様に作っていきます・・
When we added some baking soda the volcano "erupted" and orange lava came flowing from our volcano.
Of course it wasn't hot so it wasn't dangerous at all.
仕上げにベイキングソーダを加えると大噴火!もちろん本物の様に熱くはありません。
Everyone was excited to see the volcano in action after having learnt about lava and volcanoes last month.
We talked about how Mount Fuji is actually a volcano but is sleeping.
Hopefully it'll never "wake-up"!
話していた中で、日本の富士山も実は活火山だという事を知りました。
でも、富士山は眠っている状態で噴火はしていませんね。その事を聞いてこども達は「起きないで!」と願うのでした。
For June's theme of Under the Sea, we made a collage of some of the animals that we can find under the waves.
When the teacher told us what we were doing, everyone was saying that they could do it. But there was a surprise!
We couldn't use scissors to make the shape of the animals.
さて、6月のテーマは「Under the Sea」です。どんな生き物が見られるのでしょうか?
今回ははさみを使わずに海の生き物を作ってみます!
First we talked about the animals and then…
a whole bunch of ocean animals came to life!
海の生き物の生活を覗いてみましたよ!
Here we have a huge shark.
This child is working on a Ray.
Even a starfish and an itty bitty jellyfish made it's way out of the construction paper.
Written by Julian, Kristy and Yukie
2014年07月25日
Today we folded Hydrangea flowers with origami paper.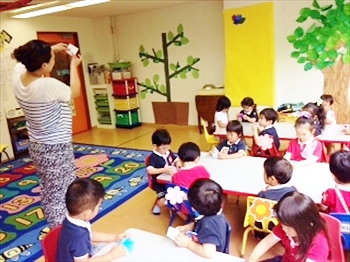 The Rain
Pitter-patter, raindrops,
Falling from the sky;
Here is my umbrella
To keep me safe and dry!
When the rain is over,
And the sun begins to glow,
Little flowers start to bud,
And grow and grow and grow!
- Anon.
雨
パラパラ、雨粒、空から落ちてくる
私を雨から守ってくれる傘
雨が止んで、お日様が照ってくると
小さなお花が芽を出し始めて、どんどんどんどん大きくなる!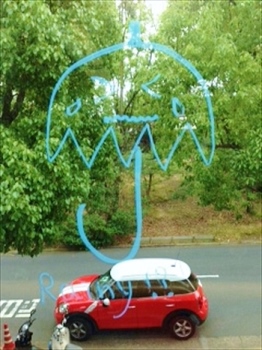 Written by Elaine & Naomi
2014年07月25日
After talking about sea life, the class went to the craft room and we all picked what we wanted to use.
Each student experimented with the objects that they choose to make their under the sea picture.
海中での生活の話をした後に、Koalaクラスのこども達はクラフトルームへ行って好きな材料を集めました。
海の絵を作るようですね!
As the teacher I showed the class how to put on the clue and sand but after that it was a case of how much sand can we use at once.
What was great about the pictures that it is their own work.
先生がお手本を見せてくれますが、こども達それぞれの思う「海」を作っていきます。
For helping hands week the Koalas class help by cleaning the hallways and some of the other classes rooms.
そして、今月はHelping Handsという事もありKoalaクラスではみんなの教室や廊下をピカピカにしました!
Written by Ian & Yukie