2020年10月27日
Here the Senrioka Orange students were studying hard during a practice YLE test in class.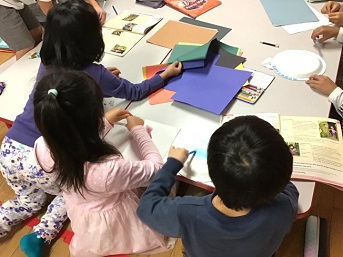 Everyone in class was excited to act out a short play and had fun making the props.
The students all focused and worked hard practicing for the play and their hard work paid off!
(Justin)
2020年10月27日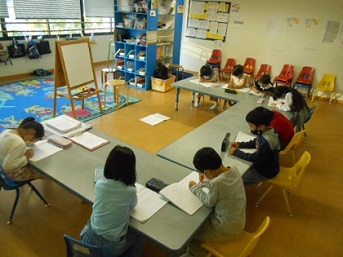 Study time. The children are busy writing words in their journals. These words are either from the Cambridge textbook or a list from the Spelling City program. The children will take some of these words and try to write them in a sentence. This is a fun activity and helps the children to be creative and unafraid of making mistakes.
Game time. The children are enjoying playing a game using the words from earlier in the lesson. In this game, children must work together to unscramble sentences on the board.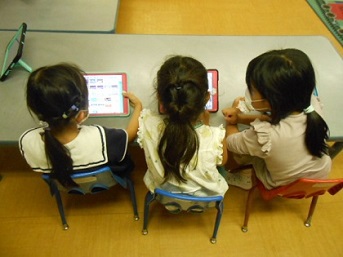 Technology time. The children enjoy using the Spelling City program on the iPads. At times they work alone and other times in small groups. Either way they are encouraged to help out their classmates if they are having any difficulty. They may find some of the words they used in the lesson and now be able to read them with confidence. As a bonus, the games are a lot of fun for everyone!
-Joseph
2020年10月27日
Takatsuki Blue Class is reading and learning about the differences between the seasons and what they are. The children had to say what their favourite season was, and draw and write about in their journal.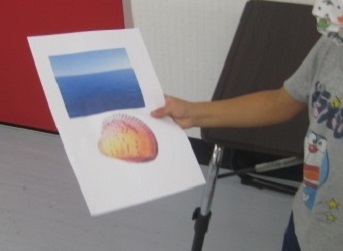 The children are learning about compound words. Two different words that become one. They had to find the images and go back and write the correct word. Everyone had to search around the classroom and decipher the meanings.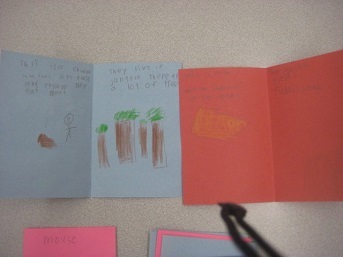 The children made an animal booklet. They had to choose an animal, find out the information about that animal, then write about it. They all presented each one to their friends after and talked about the animals they chose.
Luke
2020年08月30日
Returning from our Summer break, the Yellow class has been doing well in the After School program. Here are a few activities we have been working on in the classroom.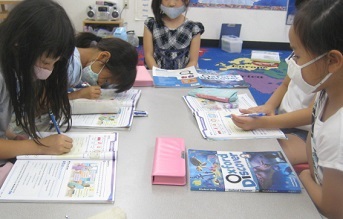 We have been learning about the similarities and differences between the past and present. We have been comparing objects such as household appliances from long ago to the present day.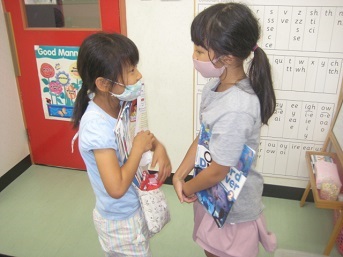 We practiced asking our classmates about how they would have traveled to different places long ago. "How would you travel to Tokyo? I would ride a horse!"



We learn how to spell new words every week. We practiced writing them in our journals to help us memorize them. "How do you spell...?"

Jason



2020年07月30日
This month in Purple Class (Movers) we are making maps! Everyone planned out and brainstormed with a partner about what they wanted to do. Everyone had different types of maps, some were of their rooms, some were of places they know, some were things they made up. The goal of the maps is so they can write directions and find something on the maps.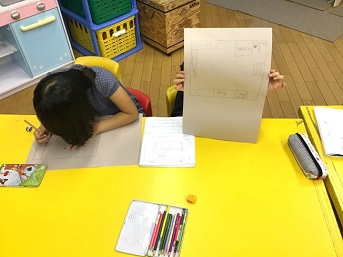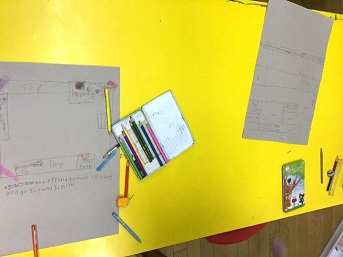 All of the maps are turning out really well. Everyone had a lot of fun thinking about what kind of map they wanted to make and what they wanted to find in it. Some students wanted us to find keys, places, and we had one student who wanted to find where their Nintendo Switch was in their room. Everyone was really creative, and everyone really enjoyed it. Great job, Purple Class!
(Mallory)