2016年01月10日
We had our annual Halloween event at the end of October and it was a really fun day for the teachers and students.
10月末に行いましたハロウィンパーティは、子ども達はもちろんですが先生たちも一緒に楽しく過ごすことができました。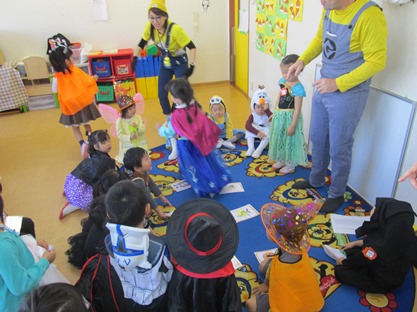 During the lesson times we played fun Halloween games, learned some new Halloween vocabulary and laughed a lot at the teacher's silly costumes.
レッスンでは、ハロウィンにちなんだゲームや新しい単語を学びました。
そして先生たちのおもしろいハロウィンコスチュームにみんなで笑ったりして、笑顔と笑い声が絶えませんでした。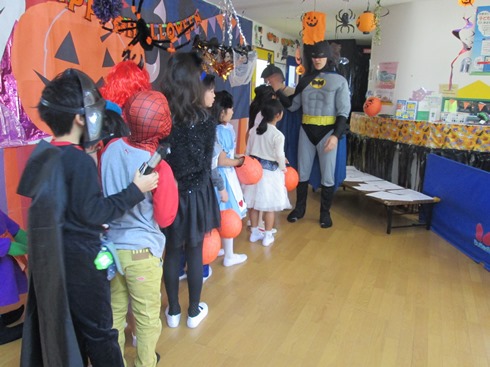 We also got a chance to go trick-or-treating! The children had the option of going down a safe and silly hallway to get their candy or to be brave and enter the haunted house! It was scary but fun for everyone.
みんなが楽しみにしていた、トリックオアトリート!
勇気を持ってキャンディをもらった子ども達は、みんなでハイタッチをして喜んでいました。
The children also made trick-or-treat baskets from different materials. Some made them from paper mache and others made them from bowls. It was a great hands on lesson and the children had a lot of fun.
そのトリックオアトリートでもらったキャンディを入れるバスケットも、実は子ども達の手作りなんです!
Halloween was a great event for the staff and all the kids. There was a lot of fun and laughter all day long and we are looking forward to doing it again next year!
毎年ハロウィンイベントはとても大盛況で、子ども達と先生の笑顔が溢れる日となります。来年も、今からとっても楽しみです!
Written by Jonathan
2015年11月14日
On Saturday October 31st we had our first Takatsuki Saturday School Halloween Party. It was great to see so many of the children in their costumes. They certainly looked happy to get the chance to dress up.
みんなが思い思いにドレスアップして登校したHalloween Partyの日。
クラスごとにハロウィンを取り入れたレッスンやゲームで盛り上がりました!
Mostly it was a fun day of games and activities so the children could relax and enjoy the Halloween atmosphere. Here the Cubs are playing a tossing game, trying to get bean bags into the Jack O'Lantern mouths.
Cubs Classの楽しいパーティの始まりは、シューティングゲームから!
As part of the day we also made sure to learn about what Halloween is and some of the vocabulary that comes with Halloween. Playing a memory game using Halloween vocabulary cards.
次はハロウィンに関するボキャブラリーを増やせるように考えられたカードゲームです!
みんないくつ当てられたかな?
The Wolves class also brushed up on their Halloween vocabulary learning words like vampire, ghost, witch and haunted house. Words that we used throughout the day for different games and activities.
クイーンとプリンセスとスパイダーマン、3人でボキャブラリーのおさらいです。
いつもの勉強のスタイルですが、雰囲気が変わると新鮮な気持ちで取り組めますね。
The Wolves class playing the very popular game, monster pong! Each child had two cups. They had to take turns throwing eyeballs (ping pong balls painted to look like eyeballs!) into each others' ghost cups. If a ball landed in your cup you lost that cup. The student with the most cups left at the end of the game was the winner. Fun and noisy!
その後はみんなでピンポンゲーム!
いつもと違うのは、ピンポン玉に目が描いてあること・・・。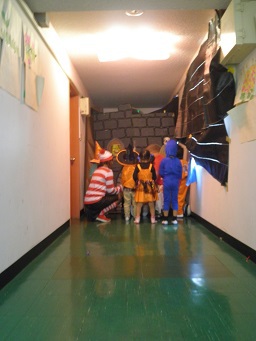 But there was one part of day where the smiles faded...the Haunted House! The children took turns walking down the spooky corridor to the Haunted House to ask the monster inside for a Trick or Treat. There were some tears but most were very brave and it turned out the monster was more than happy to hand out candy and no one got eaten!
"Trick or Treat!"  パーティを楽しんだら、お菓子をもらいに行こう!
でも・・・暗いし怖いし・・・ヘンな音がするし・・・。「どうする?」「誰が行く?」「みんなで行く?」
ピンクのドレスのプリンセスは、勇敢にも一人でお城の中に入って行き、中にいるモンスターからお菓子をもらいました!小さな子から大きい子まで、みんな良く頑張りました!来年はもっと怖いかも?!
Overall it was fun day and the children all had a great time. We look forward to seeing some more spooky characters in our classes next year for what will surely be an even better and scarier Halloween party!
-Julian & Kyoko
2015年10月13日
This past Saturday we had a really great time with the children and parents at our first event of the year.
9月の最終サタデースクールの日、保護者の方々を招いてイベントを行いました。
The upper level children all played a game of English BINGO! with the help of their parents.
It was great to see the children recognizing the words so quickly and working with their parents to read them together.
大きなジムでお父さん、お母さんと一緒にBINGOをしています。
単語を聞いて、自分のBINGOカードにその単語があるのかを探す。一見単純に見えますが、聞いた音で文字を探すのはとても難しい作業なのです。
サタデースクールで学んでいる子どもたちの成長を目の前で見ていた保護者の方から笑顔がこぼれていました。
We also played an exciting gym game called "line tag".
The parents had a chance to be the 'demons' and chase the children around the gym.
There was a lot of laughing and screaming and I think everyone had a really great time with it.
またShotaが親子で楽しめるゲームを教えてくれました。
お父さん、お母さんが「オニ」になって子どもたちを追いかけます。
写真を良く見ると、引かれたライン上だけ移動ができるというルールが設定されています。
ルールをきちんと守りながら全力で遊んでいた子どもたちでした。
For the younger children we played a game of 'hot potato' where we passed some things around the circle and had to tell each other what the object was. When the music stopped the teacher went to ask the children holding the toy what they had and all the children did an excellent job of shouting the answer out in a big voice.
小さい月齢のクラスでは、「ホット ポテト」というゲームをしました。
みんな大きな声で答える事ができました!
We also had a music performance for each level and the children had a chance to sing a few songs for their parents.
MusicクラスのEriと一緒に学んだ歌を披露してくれました。とっても元気がよく、歌に込められた気持ちが伝わってきました。
The younger children also got to do a little dance for their parents along with their music performance.
まだまだ幼いこのクラスでも、Eriと一緒に少しダンスも交えながら一生懸命歌っていました。
Overall it was a really fun day and we were glad to see all of the parents coming out to see their children enjoying their time here with us.
Thank you for all of your support this year and we look forward to seeing you in March!
来年3月には参観日も控えております。また、保護者の皆様にお会いできるのを楽しみにしています!
Written by Jonathan
2015年06月13日
Saturday School Easter Party at Takatsuki
Our first event Saturday School event for the year was our Easter Party! As is tradition in many countries we started off by coloring our own Easter eggs. We used red, blue and yellow and even mixed some together to come up with our own colorful eggs (pre-boiled of course!). Everyone was very careful to not get any of the dye on the clothes but we got lots on our hands...
サタデースクールが始まって最初のイベントは"Easter Party!!"
Egg dyeからスタートです!
水・酢・食紅を使って玉子を染めていきます。
きれいに染まるかな?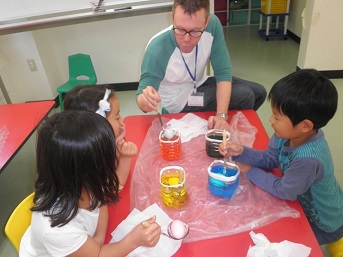 Then of course we had to see what the Easter Bunny had brought us. We heard the Easter Bunny had left some chocolate eggs for us hidden in the gym so we went down and had a ourselves an Easter egg hunt! Some of the eggs were hidden in tricky places but we managed to find 5 eggs each!
次のお楽しみはEgg Hunting!
先生達が事前にジムに隠したイースターチョコレートを探して回ります。
チョコレートを5つ見つけ出すのが目標です。
「あったよ!」「あと2つ!」などど、楽しそうな声が響いていましたよ。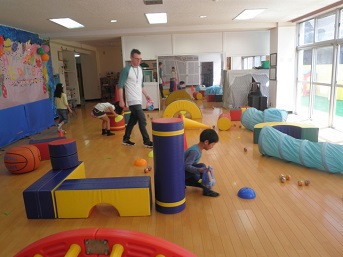 After finding the eggs it was a nice surprise to find the Easter Bunny was still here. We got to say thank you and had our picture taken with the cuddly bunny and our own hand made Easter baskets. Thank you Easter Bunny!
写真撮影にはEaster Bunnyが登場!
小さい子の中には少し怖がっている子もいましたが、バニーにハグされて仲良くなっていましたよ。
It was a nice start to spring - chocolate, Easter eggs, Easter games and the Easter Bunny. Looking forward to next year already!.
記念にイースターバスケットを持ってバニーとパチリ!
記念写真は後日お渡ししますね。お楽しみに!
2015年03月05日
We had lots of fun last month at Saturday school learning about Winter and Christmas for out themes for the month.
We even had a Christmas party where we had an in-house performance where the students performed the songs and dances they learned throughout the year.
We even played Winter themed games.
先月はクリスマスパーティを行いました!ゲームはもちろん、こども達が日頃練習しているダンスや唄のパフォーマンスも披露しました。
The kindergaten classes made "Olaf" the snowman from the Disney movie Frozen using a special fluffy paint and our fingers to decorate it. Santa Claus came to visit us as well.
小さい組では、ディズニーのクラフトをしました。
Our elementary classes made snowglobes using pipe cleaner and empty recycled jars.
大きいクラスでは、モールやビンを使ってスノーグローブを作りました。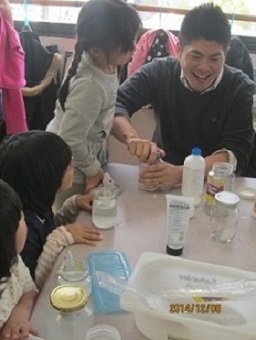 We also made a frozen pond ice rink using salt on the wet paint where we watch it crystalize as the paint dried.
別のクラスでは、絵具と塩を使って乾くと雪のように見えるアイスリンクを作りました。
サンタも登場して、プレゼント交換もあり、とっても楽しい1日になりました!
Written by Jason, Yukie & Keiko